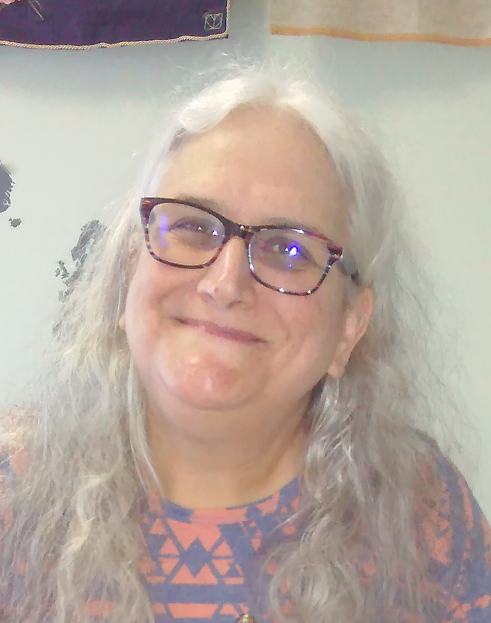 RT. REV. SER LAURIE DENMAN, Arch Priestess, CCE, President of CEM and WSI Dean of Mentors
Rt. Rev. Ser Laurie Denman is the Third Degree Arch Priestess and Elder of the Correllian Nativist Church. Rev. Laurie is also the founder and Temple Keeper for the Chosen Path Church, a full Temple of the Correllian Nativist Church. Chosen Path Church (CPC) offers a full range of Pagan services, including handfastings and legal marriages. CPC also has a Community Pagan Center (CPC2) which offers ritual and class room facilities, gardens, Correllian Medicine Wheel, and a sacred fire circle to the Northeast Florida Pagan community. Several more projects are in the planning stages. Chosen Path Church was a charter member of the Northeast Florida Pagan Leadership Coalition (NEFLPLC) but has since retired from this organization when Rev. Laurie retired from her professional career.

Rev. Laurie also serves as the President, CFO, Dean of Mentors for Correllian Education Ministries (CEM), the seminary of the Correllian Nativist Church of Wicca, commonly known as Witchschool.com. Rev. Laurie mentors many Clergy and General Studies students at Witch School and through her Temple. She is also the Master of Records for the Correllian-Nativist Church and serves as President and Chairperson of the CEM Board of Directors. Her professional life included 46 years in Finance & Accounting at a major world bank and as a Project Manager Lead for a worldwide consulting firm and a premier specialty software consulting firm. She is now enjoying her retirement which affords her more opportunities to travel, do her artzy fartzy crafting, and be spontaneous with her many friends.
Rev. Laurie is an attuned Reiki Master and instructor as well as a Correllian Shaman and Shaman Guide. She is an active participant as a Faith Leader in the Jacksonville community and fought along with the Florida Coalition for Equality to update the Duval County Human Rights Ordinance to include protections for our LGBTQ citizens. She is retired from the Board of Directors of Pug Rescue of Florida and Georgia where she served as Treasurer for five years and fostered dozens of hard case pugaronies. Her hobbies include water gardening, traveling, playing World of Warcraft, doing crafts, and spending time with her many pets and CPC cat colony. She has two grown children who are still the center of her Universe.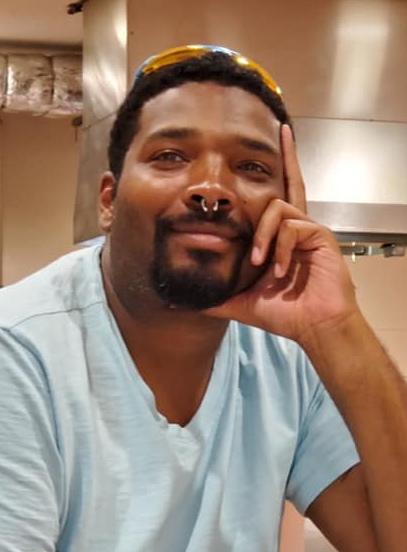 M. REV. PHOENIX WILLIAMS, AP and FP Regent
Rev. Phoenix is a Correllian Arch Priest and First Priest Regent of the Correllian Tradition. He is also the Head of Holistic Knowledge Temple in Buffalo, NY. Rev. Phoenix also acts as Lord of the Blue Door in the Correllian Door Program.  The Blue Door focuses on preparing Correllian Clergy for Chaplaincy service to their communities.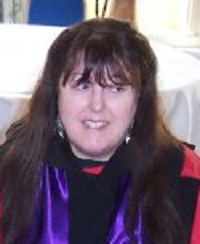 RT. REV. ANNA MARIA ROWE, AP, CCE, Co-Dean of Mentors
Rev. Anna Maria Rowe is Co-Dean of Mentors for Witch School. Rev. Anna is a Correllian Arch Priestess and a member of the Correllian Council of Elders, serving as Witan Herald for the Tradition. Rev. Anna Heads Sedna Temple in the UK. Lady Anna is no longer accepting WSI students for mentoring as she focuses on her multiple Temples.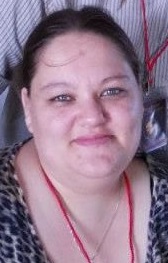 RT. REV. RAENE PACKERY, AP, CCE, Co-Dean of Mentors
Rev. Raene Packery is Co-Dean of Mentors for Witch School. Rev. Raene is a Correllian Arch Priestess and a member of the Correllian Council of Elders, serving as the Traditon's Senior Priestess in Africa. Rev. Raene is the Head of Clan of Kheper Temple in Capetown, SA.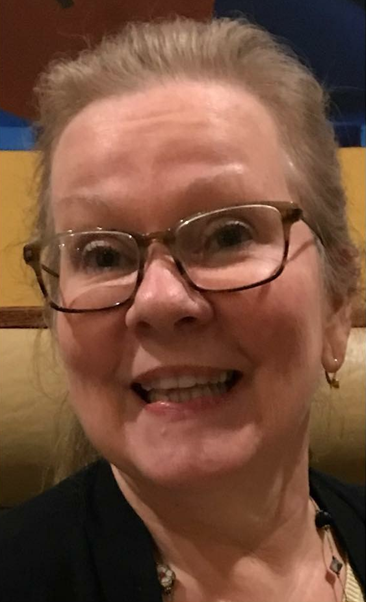 Angela, Mentor
Angela has been a Third Degree High Priestess in the Correllian Nativist Tradition since January 2013. She is currently the Grand Templar Deemstress for the CNT. Angela is married to a retired Army Lt. Colonel and has one son and three step-sons. She is a paralegal for a real estate law firm in Florida. Angela is the facilitator for Compassion League Temple and for Oracle Owls, a fully chartered Spiral Scouts group.  She has been a mentor for the Correllian Shaman course in past years and is also a certified Peruvian Shaman.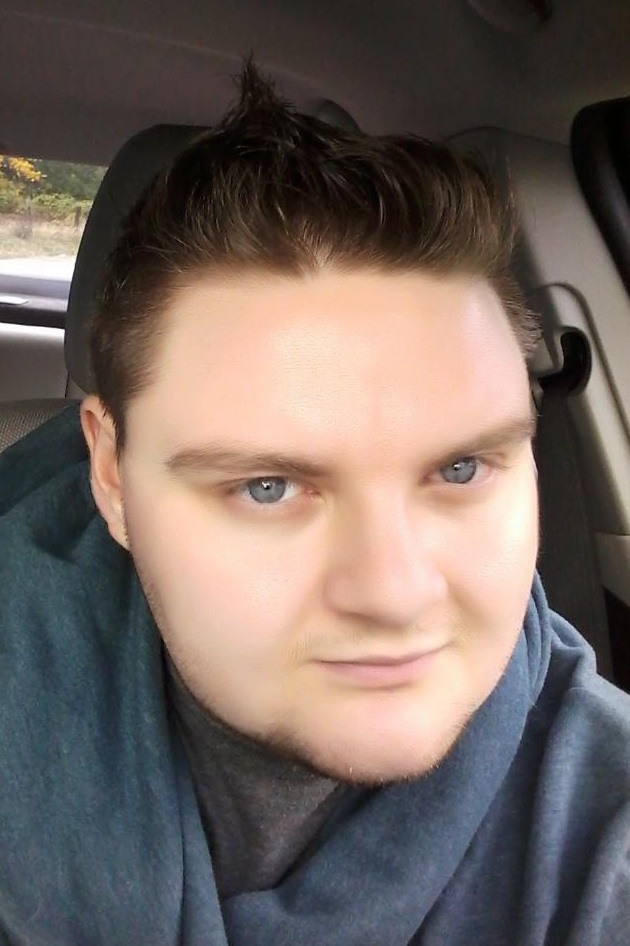 Rev. Darkur NyghtFrost, Mentor
Greetings! I am Rev. Darkur NyghtFrost. I have been interested in the Occult all my life. At the age of 14, I began to look into a few different Pagan paths, and by 16 I was practicing a familiar tradition with a close friend. Around 17, I began seriously studying Wicca, which ultimately lead to my attainment of the 1st Degree in Correllianism in January of 2017. I would currently describe myself to be a 'grey hedge witch'. I work almost exclusively with the Norse pantheon, and I live in the Pacific Northwest, USA. I believe that knowledge is power, in turn knowledge when applied turns into wisdom. May your quest for greater wisdom never end! I hope to support you on your spiritual journey. Blessed Be.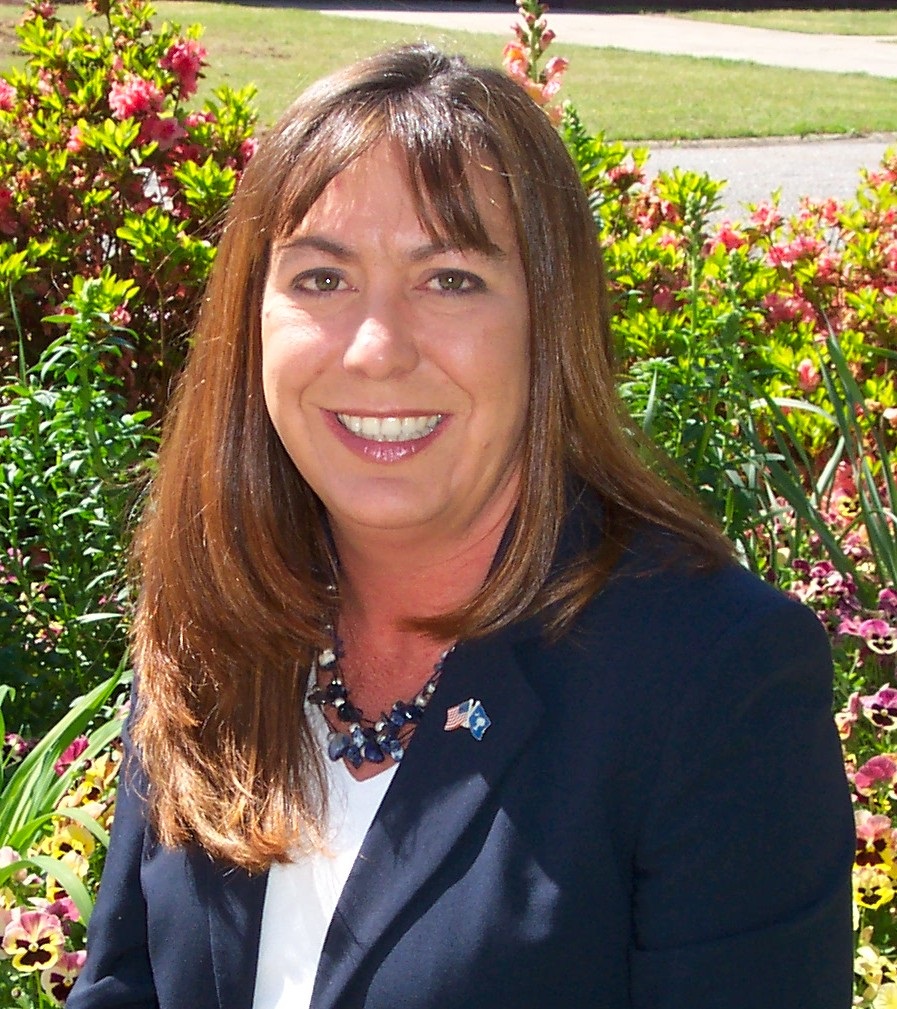 Judy, Mentor
I started my Wiccan path in 1995, predominately as a Solitary. While I studied with several covens and Traditions, none of them spoke to my spirit fully. I joined Witchschool on July 11, 2014 and found my home. The fact that Correllians encourage you to be an individual and to expand your intellectual experiences, through peace, with other religions and people, appealed to my innermost being. The influence that my Mentors had on me through my Degree studies and The Door program encouraged me to also become a Mentor and "pay it forward" to other members of the Tradition.  It has been through my Correllian studies that I have learned who I am, become comfortable with who I am, and been accepted by others for who I am. As a Mentor and member of the Tradition, I can only hope to assist others on their personal journey of self-discovery and connection with Deity.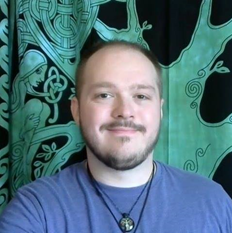 Rev. Kyle Metzger HP, Assistant Dean of Mentors and Mentor
Rev. Kyle is a Third Degree High Priest and the Temple Head of the Four Pillars Temple located in Ohio. He also serves as an Assistant Dean of Mentoring at Witch School International.
Rev. Kyle holds a bachelor's degree with dual focus in theater and religious studies. His areas of focus included costume design and construction as well as the religious topics of Buddhism and Islam. In his personal life he is has a passion for religion and spirituality in general and has studied topics such as Buddhism, Judaism, Islam, Shinto, and other general Pagan topics.

Rev. Kyle also holds a master's degree in counseling and focuses on the treatment of mental health and addiction concerns. He enjoys exploring how spiritually can be helpful in improving one's personal and mental health.

As part of his work with his temple, Rev. Kyle runs the temple Facebook page, a private members only group, a temple study group for Correllian studies and related materials as well as a temple YouTube channel and Blog. The temple also enjoys regular observances of the Esbat and Sabbats on a regular basis.

Rev. Kyle is also a member of several Correllian orders including the Order of Peace Weavers and the Order of Artificers and takes an active role in making regalia for his temple. He enjoys teaching and mentoring and is looking forward to working with WSI to help everyone to learn and grow!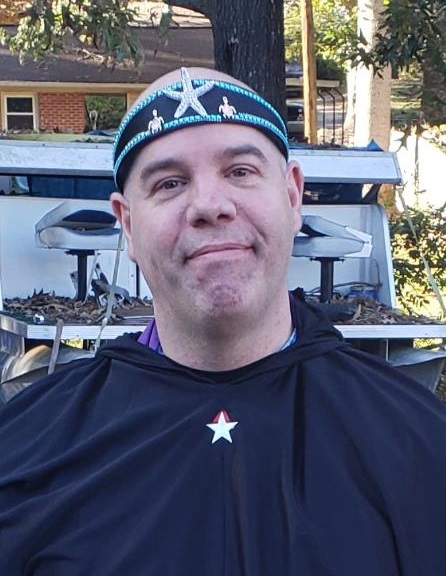 Rev. Silas Mimir, HP, Assistant Dean of Mentors and Mentor
Rev Silas Mimir, HP, has been active with the Tradition since 2009. He became an Assistant Dean of Mentors in 2021. He earned all three degrees under the mentorship of the First Priestess of the Tradition Lady Stephanie through Sacred Sea Temple.  He is also a Reiki master, Correllian Shaman, and Sea Priest with the Tradition. Lord Silas is also the Temple Keeper of the Mystical Rainbow Proto-Temple.  Outside of his work with the Tradition, he holds a Bachelor of Music in Flute Performance with a Minor in Spanish.  He began work on a Master of Arts in Modern Language: Spanish in January 2020.  Lord Silas is a very loving and compassionate person, and enjoys helping out when he can.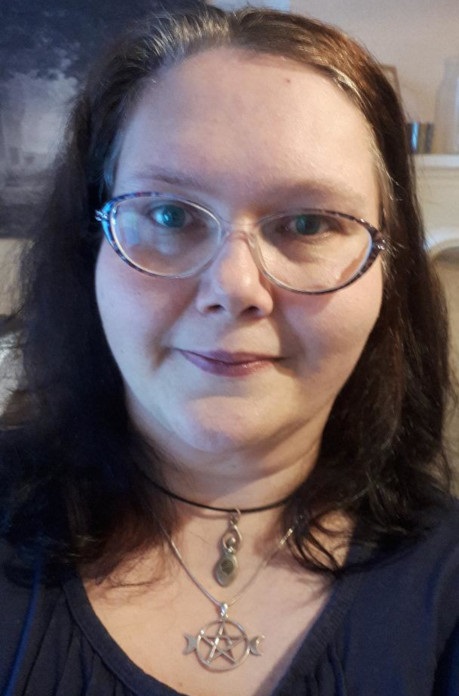 Rev. Earthstar, Assistant Dean of Students and Mentor
I began my studies with the Correllian Nativist Tradition back in 2002. Currently, I hold the position of Assistant Dean of Students at Witchschool and am a member of the Second-Degree Clergy, studying my Third-Degree under the Temple of Sedna. Additionally, I am the founder of an online Proto-Temple named Wild Moon, which is accessible through Second Life, Discord, and Facebook. I also oversee three Orders - Crystal Harmony, Sanctum of Hekate, and Order of Yggdrasil - and am an active member of several others, including the Order of Web Weavers and the Order of World Walkers.
My interests are diverse and include knitting, crocheting, sewing, baking delicious treats, and creating handmade body cosmetics. I am also deeply interested in subjects such as Psychic Development, Tarot, Spiritualism, Crystal Healing, Reiki, Energy Healing, and Herbalism. As an ardent reader and writer, I believe that learning is an ongoing journey and have completed nearly forty courses at Witch School alone.
Currently, I reside in Rotherham, UK, with my partner and our four beloved springer spaniels - Barney, Hunter, Clover, and Meg. In terms of my professional background, I am a trained teacher who spent over a decade working in the Adult Education Sector. However, my life is now wholly dedicated to the Correllian Tradition and Witchschool.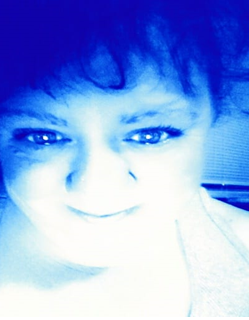 Rev. Cherrie Hewitt, Mentor
She began her love and connection with the Earth (and Her beings) when she was young, exploring the limited natural land around the apartment complex she lived in and picking berries in the Summer to bring home to her mother. One of the highlights of her childhood was being a Brownie and Girl Scout, going to a day camp for the Girl Scouts in NJ. She would spend endless hours watching and observing Nature. One of her favorite things to do is crafting (from as a child) with dried herbs and flowers, moving on to working with florists and nurseries in order to be close to Nature. 
She is currently finishing an Associates of Applied Sciences in Complementary Alternative Medicine (CAM) with a double focus, Aromatherapy & Herbal Medicine. has completed the Aromatherapy Specialization with Delta Epsilon Tau honors in her AAS of Complementary Alternative Medicine degree at American College of Healthcare Sciences and is completing her Herbal Specialization at this time.

She also has a deep love for art, music, and philosophy finding those fantastic ways to express and understand the world through them. Her magickal background is a long journey of 17 years of learning Wicca through Witchschool, Isian / Goddess from the Fellowship of Isis, solitary studies, and General Magick,

She retired from duties as mentor, mentor lead, and Asst. Dean of UK for Witchschool in order to take on full time college lessons at American College of Healthcare Sciences in 2014. She has come back to mentoring as it is something she loves to do! Learning is a lifelong process and she holds a Unitarian Clergy credential, a 3rd Degree Clergy at Witchschool, and continues to learn and strive for enlightenment.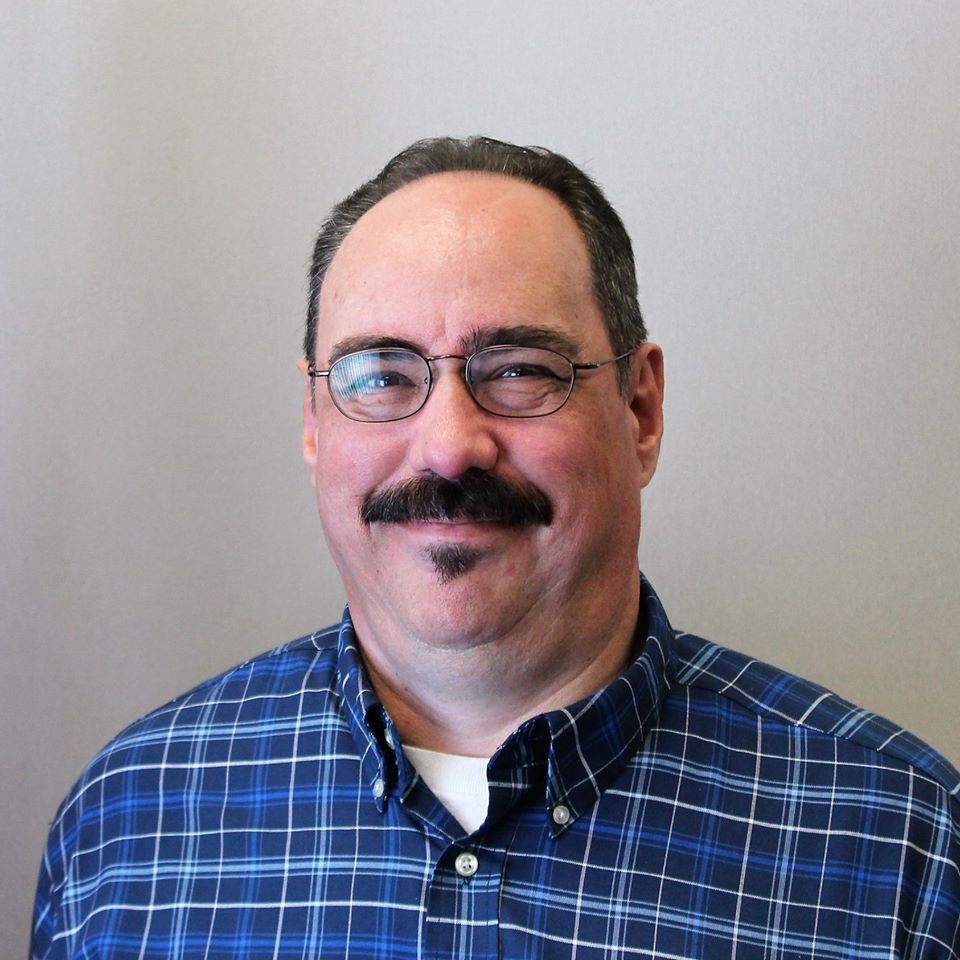 Rev. Ed Carr Jr, Mentor
Greetings, I have been with Witchschool since 2005 and I am currently working on my Third Degree and just recently became a Correllian Shaman. I also have a Witan Shrine named Spiritual Wolf in which I hope for it to one day become a temple. I have varying interest in all things occult, especially with runes. I enjoy spending time outdoors, working in our garden, which includes flowers, herbs and veggies and my favorite hobby is fishing. I love books and have an ever-growing library. I live in the great state of Texas and have for 20+ years. I look forward to assisting you while on your journey.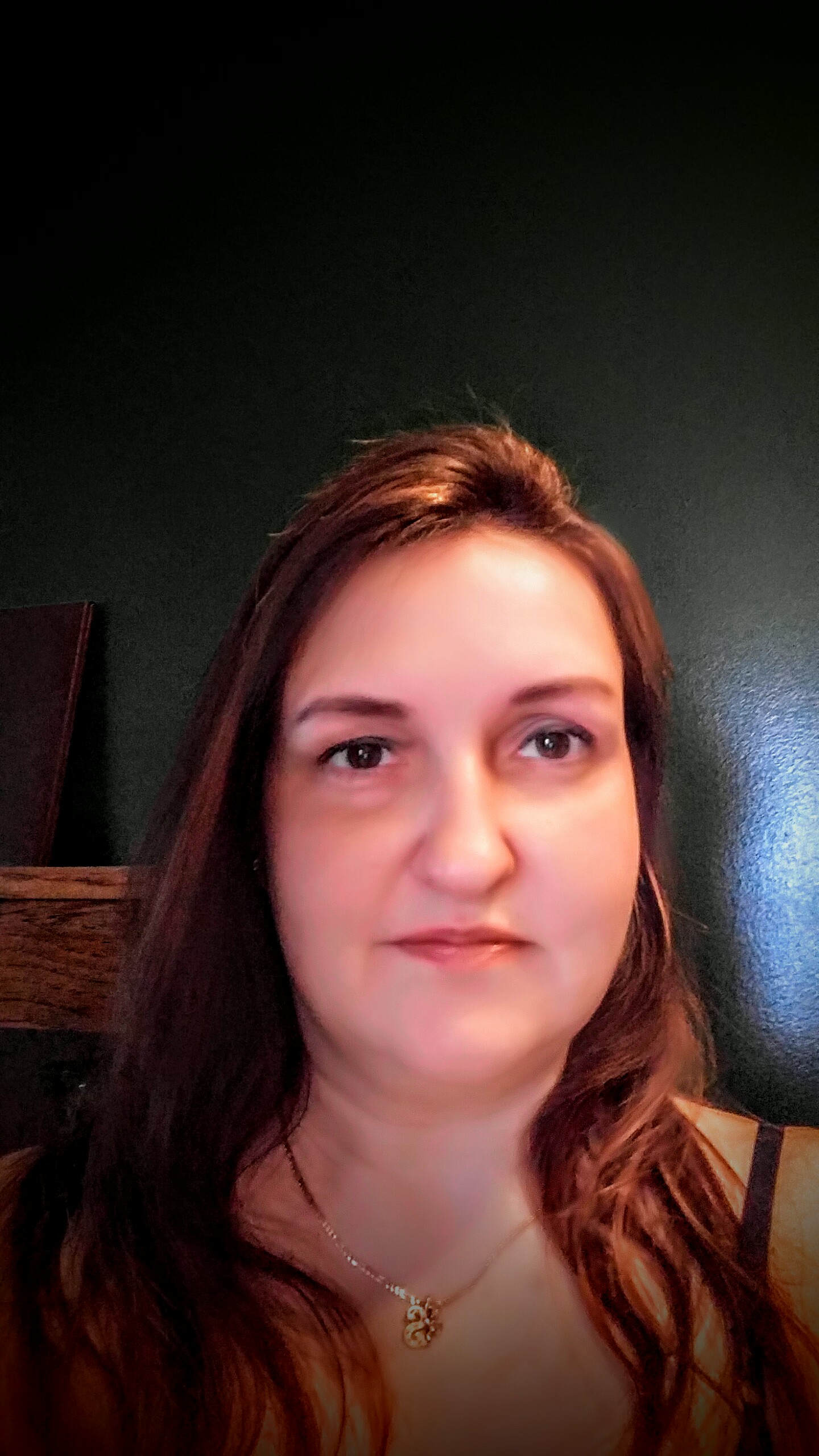 Rev. Stacey Blair, Mentor
Merry Meet, my name is Reverend Stacey Blair also known as Autumn Redfox.  I have been a pagan for over 30 years and a Correllian for over 5 years.  I come from a long line of Herbalists and natural practitioners.  I make my own holistic medications from an herbal cabinet of over 140 different herbs and still growing.  I have raised 4 children in the pagan faith and sit upon the board of the Witches of Michigan, running the local scout program which is a part of The Krystel Cavaliers.  I am involved in many of the Correllian groups as well as local groups.  I have a Witan Shrine, Our Lady of the Healing Fields, which will hopefully gain Temple status next year.  I have completed almost all of the classes at Witchschool and have knowledge in a vast array of subjects.  Currently I am working on my Third Degree clergy as well as Reiki in the Usui practice, both of which should be completed by 2021.  I look forward to working with you!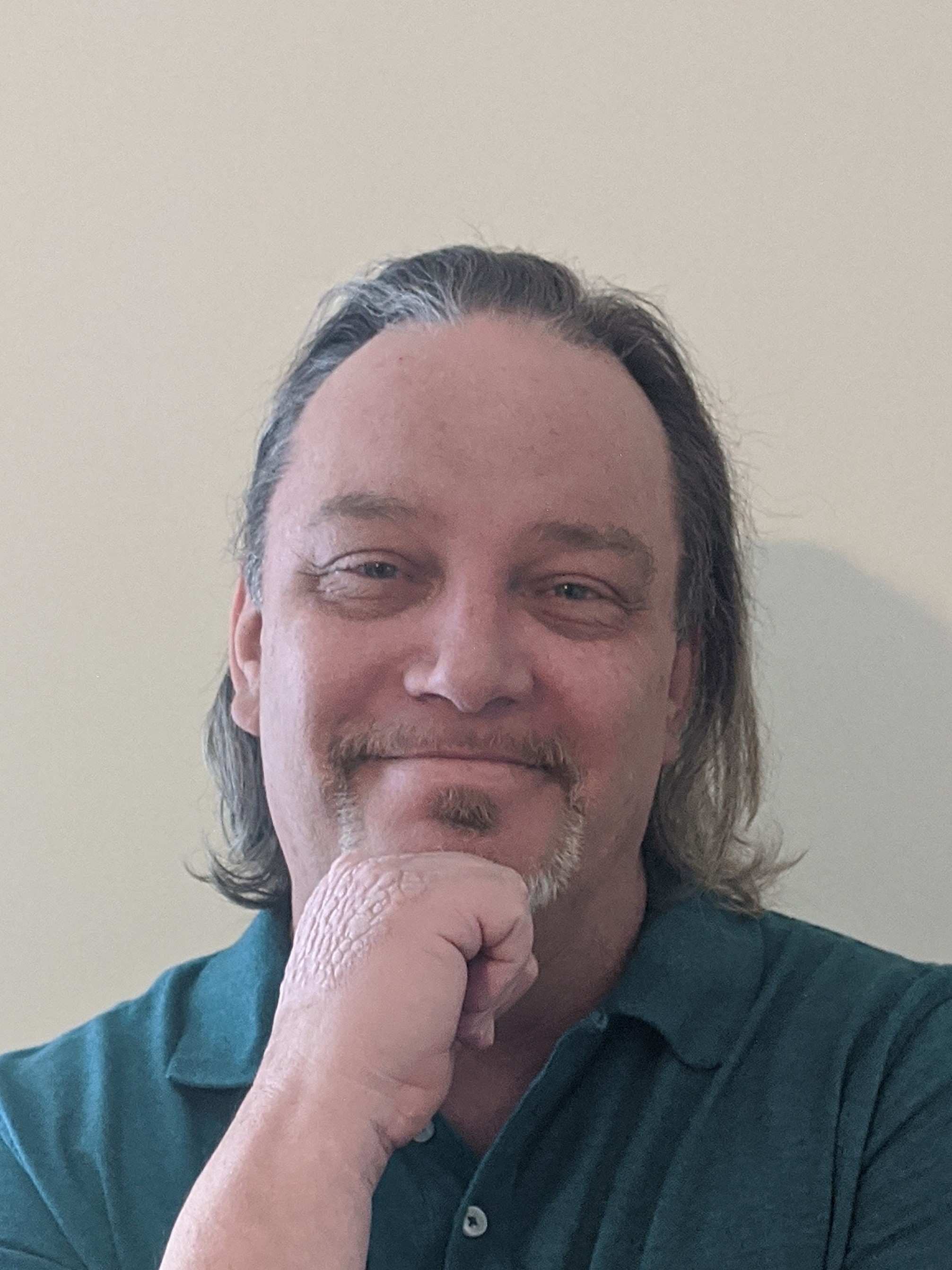 Rev. Chad Blackman, Mentor
I have been a student of human studies and Pagan ways since a young man. After over 30 years of learning, I am excited and humbled to be helping others on their path. It is always a learning experience for myself and those I am mentoring. I hold degrees in Information Technology but other studies have been my latest focus including spiritual studies and men's studies. I host a men's group for all the Pagan community as a service to help myself and others grow. I look forward to walking the path with anyone and everyone.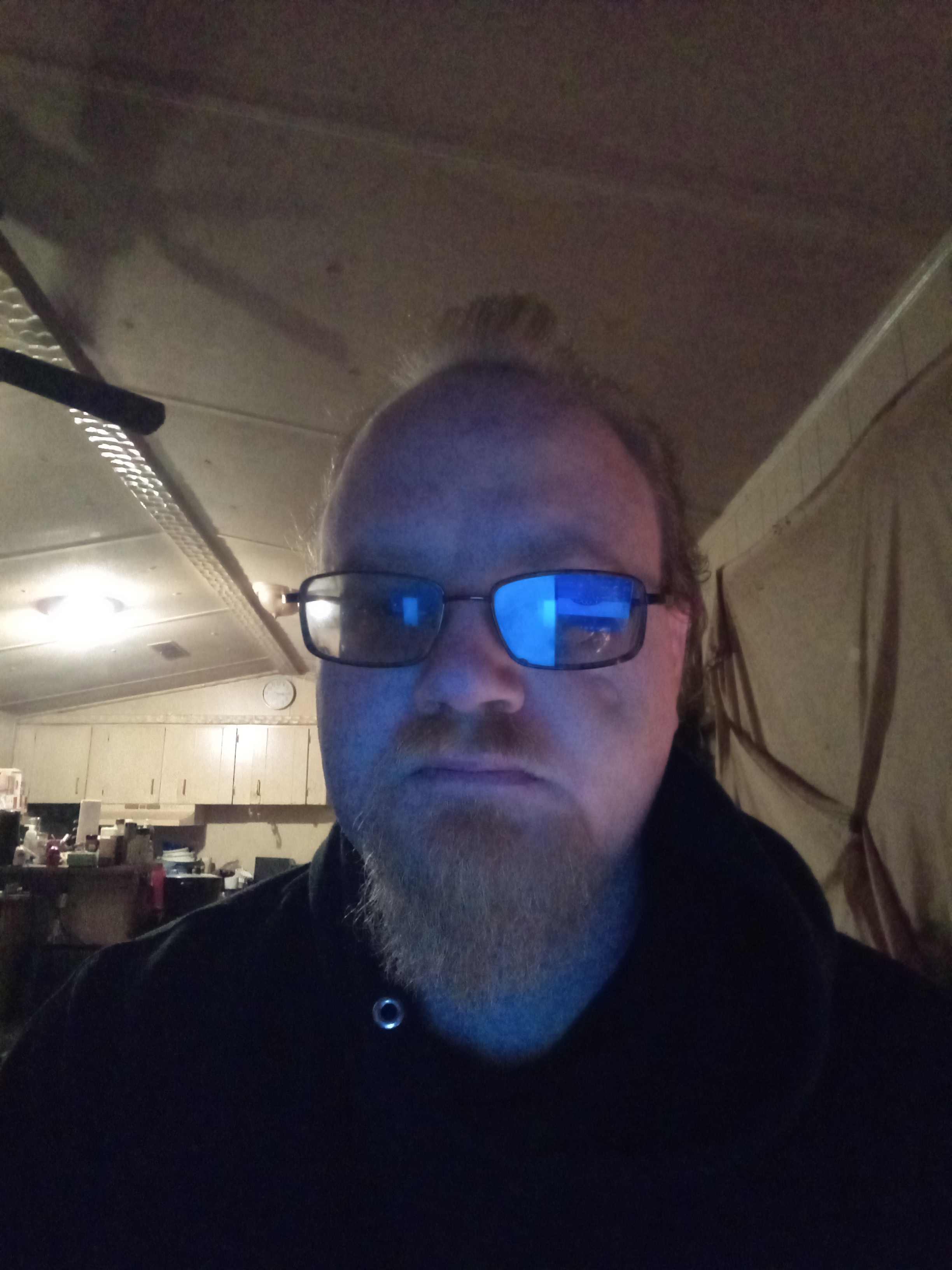 Rev. Jared Crow, Assistant Dean of Students and Mentor
My name is Jared Houston Crow. I am a 3rd Degree with the Correllian Nativist Tradition of Wicca. I also serve as an Assistant Dean of Students at Witch School. I have been a practicing Pagan for most of my life. I am also the Temple Head of the Celtic Crow Temple, which is mainly on Facebook, based out of Dallas, GA.  I have Military background.  I hope to get to know those I mentor and be able to help them all the way through to their 3rd Degree.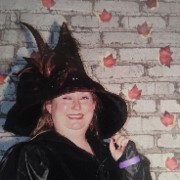 Rev. Maidenhair, Mentor
Rev. Maidenhair has been active in her local Pagan community since 2001 with circle gatherings, workshops, and larger community events.  She worked Metaphysical fairs as a spiritual counselor for 5 years.   Rev. Maidenhair also sponsored the Tulsa Witches Ball from 2003 to 2006, co-founded the Oklahoma Pagan Heathen Alliance, and served on its board as membership officer, treasurer, and secretary.  She has been sponsoring moon gatherings and workshops from her home since 2001 as well as Meet & Greets.   IShe is a Certified Reiki Master with teaching credentials.   Rev. Maidenhair is currently finishing up her Third Degree with the Correllian Nativist Church.  She is also a Shaman with Children of the Green Goddess.  She has received the 9 Rites of the Munay-Ki.  Rev. Maidenhair spends her days and nights expanding on her spiritual growth and giving back to the community that has helped her.  She loves to teach, but also loves to learn!   Her hobbies include sewing, embroidery, crochet, knitting, macramé, gardening, cooking and baking, herbalism, wild crafting, glass etching, genealogy, writing, design, all kinds of research, beading, painting, seed collecting, tarot collecting and research, sweat lodge ceremonies, and many other interests.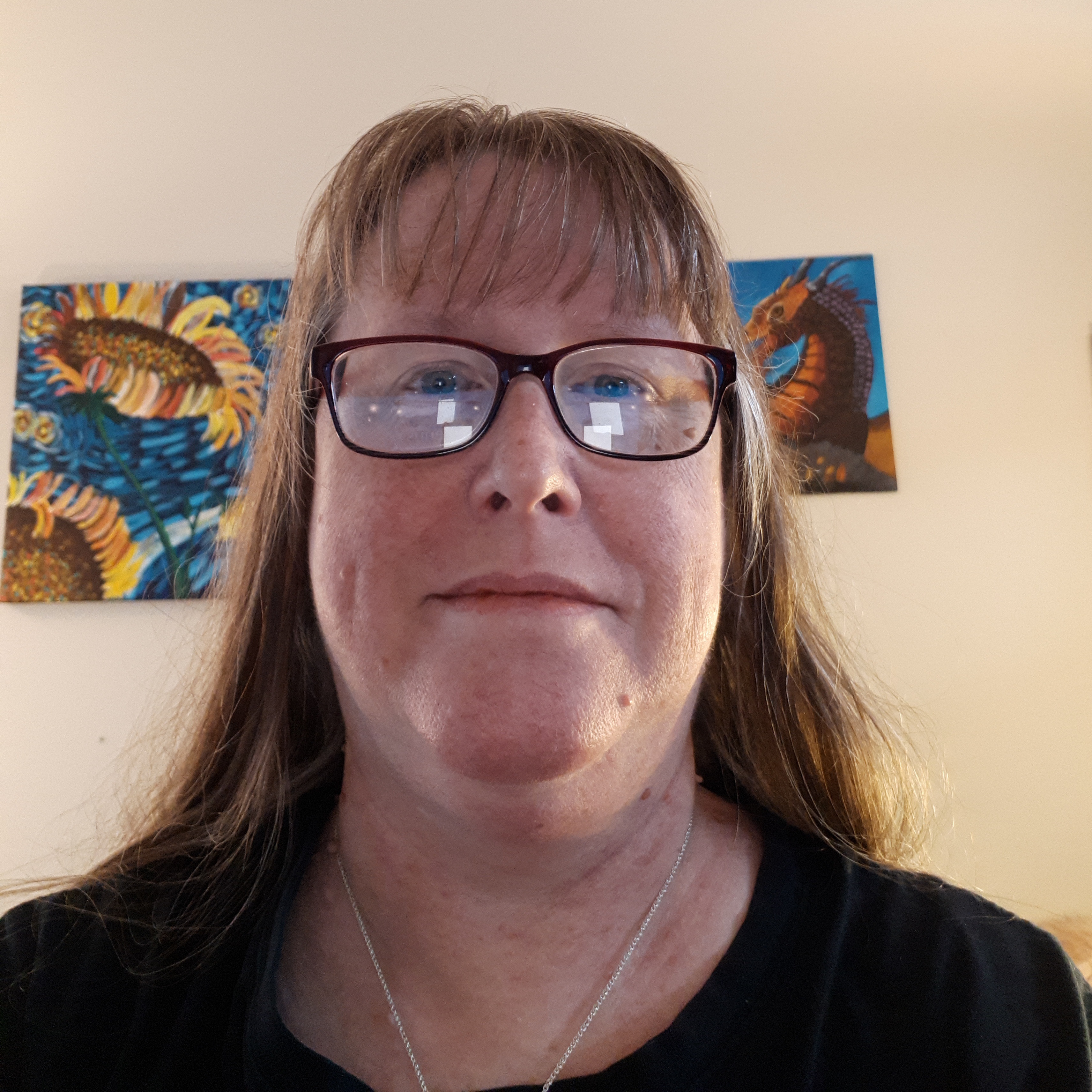 Rev. Terry-Lynn Plank, Mentor
Terry-Lynn first joined the Correllian Nativist Tradition in 2019. She currently has her First and Second Degrees in the Tradition and is working on her Third Degree and Living the Wiccan Life. Terry-Lynn is a member of the Temple of the Night.
Magical interests include herb and plant lore, runes, and ceremonial magic.
Terry-Lynn has an Undergraduate Arts degree, and a Master of Distance Education degree. She was a college instructor in various subjects including Business Management, Microsoft Office, and Office Administration. She thoroughly enjoyed engaging students in group and individual activities. Terry-Lynn has since retired and enjoys crocheting amigurumi, cross stitching, drawing, and acrylic painting.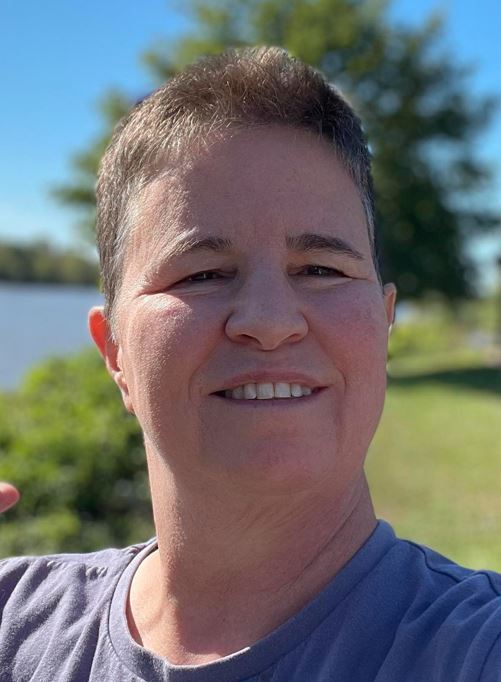 Rev. Kzane Burdick
Hello, I'm Kzane, a Deaf Canadian with a passion for drawing, travel, and camping. I've had the incredible opportunity to travel alone to third-world countries on two occasions, driven by my curiosity about how societies cope with non-materialistic lifestyles. What struck me the most was the serenity and genuine smiles I witnessed amidst the chaotic city environments. It was truly amazing!
On another note, I am currently a first-degree clergy member of the Correllian Nativist Tradition and actively pursuing my second degree. Since 2020, I've been actively involved with the Wild Moon Temple, which has been an enriching experience. I had the pleasure of engaging in a three-year study group for the first-degree program, which I found immensely rewarding.
Professionally, I have dedicated over 25 years to the field of computer instruction and computer lab supervision. Additionally, I have also had the privilege of teaching American Sign Language (ASL) and English as a Second Language to Deaf immigrants at a college for five years. Furthermore, I served as an ASL instructor for the Sign Language Interpreting program at another college. It has been immensely fulfilling to share my knowledge and passion for ASL and language instruction.

Overall, I take great joy in my diverse experiences, personal growth, and the opportunity to make a positive impact in the lives of others through teaching and my spiritual journey.